An Introduction to Trail Grooming

We field many questions throughout the winter as to why aren't we grooming "this place" more often or why can't the groomer do this or that? Grooming is an art AND a science which requires indepth training and knowledge to do properly. We field expert groomers who have years of experience and training to do the job properly.

In an effort to give you some idea of just how complex grooming can be, we are sharing this video produced by the State of Maine on Groomer Operation. While this video may be "technical" in places, the overall content can give the public a much better understanding of just how complex trail grooming can be. This video is just over an hour in length, but there is some invaluable information and insight into what it takes to groom trails properly. We hope you find it educational and as always, please keep asking questions...we really don't mind :-)

Trail Maintenance & Grooming

Working in conjunction with the

Montana Snowmobile Association

, the US Forest Service and Montana Fish, Wildlife and Parks, the Flathead Snowmobile Association works to maintain access to hundreds of miles of trails, over 200 of which are groomed in three different areas.

Grooming is our single largest expense and we are funded via club membership dues and the MSA which manages the funds coming from registrations and trail passes. We operate two groomers on Big Mountain and contract for grooming at Crane Mountain and Desert Mountain.
---
Safety & Education

On the Canyon Creek Trail (Big Mountain), the FSA and USFS built and maintain a survival cabin and restroom. This cabin has a wood stove and every summer, members work to stock it with wood for the next winter. You can stop in any time while out on the trail, get warm, have lunch, and just enjoy the camaraderie of fellow snowmobilers! And as shown here, the FSA will hold cookout at least once a year up at the cabin complete with mobile grill and great food! Watch for the event!

Each year, the FSA marks all groomed trails with over 100 signs, markers and warnings. We've also put up named route signs at key intersections on the Canyon Creek Trail which makes navigation a breeze!

The FSA also works closely with Flathead County and specifically

North Valley Search and Rescue

making sure everyone is safe and if needed, help is as close as possible.

Finally, the FSA works closely with the

Friends of the Flathead Avalanche Center

which conducts avalanche awareness and search/rescue training. Check out their website for specific training classes coming up.
2016 Trans-Montana Riders at Werner Peak

Fun Events

Every year, the FSA works hard to schedule a number of events for our members and fellow snowmobilers. Everyone is welcome and we encourage all riders to come join us on one of our fun day rides.

​

We also sponsor the

Trans-Montana Snowmobile Ride

which benefits the National Alliance on Mental Illness (NAMI). When asked, we host one leg of the ride each year on one of our trail systems. This past year we hosted the kick-off banquet where we raised $2900. Again, we encourage our members to get involved and take part in this fun and worthy cause.
GPS Enabled Trail Maps are Here!

Again his year, the FSA is partnering with Trail Treker (a local Montana-based company) to provide it's members with high resolution, GPS-enabled trail maps for all three areas we maintain. Members purchase the Trail Treker app (Apple or Android) for $2 on the app store and will receive a code from the FSA to get all three maps (a $6 value) to download the maps to their smartphone.

Once loaded, the map is cached on your smartphone and shows you where you at any time WITHOUT phone service! We are proud to support a local company and even more pleased that we can bring our members this added piece of mind on the trails.

Check out the

Area Trail Maps page

for more information on our trail systems!
And More Benefits!
Every member gets a membership card that allows you a 10% discount off parts and accessories at each of our major dealerships in the area! This includes FasToys, Lelands and Penco!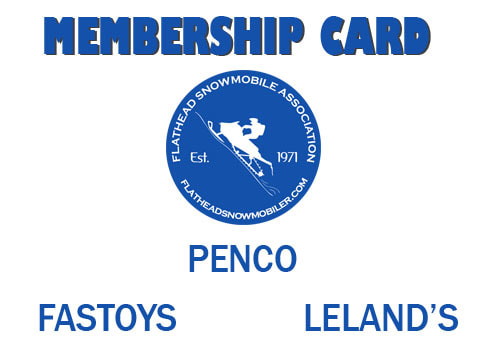 | | | |
| --- | --- | --- |
| | Get 17% off your stay in West Yellowstone when you book at the Brandin' Iron Inn! Just use the code MSA (you have to book directly) and tell them you're a member of the FSA! | |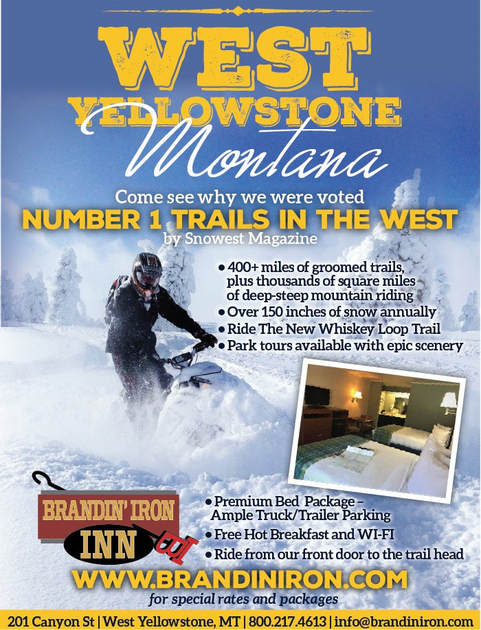 The Snowmobiler's Pledge

:

- I will operate my snowmobile only when sober.

- I will driver within the limits of my machine and my own abilities.

- I will obey the rules and laws of the state or province I am visiting.

- I will be careful when crossing roads and always cross at a right angle to traffic.

- I will keep my machine in good condition and perform a preride inspection check before each ride.

- I will wear appropriate clothing, including gloves, boots, and a helmet with a visor.

- I will let someone know my planned route, my destination, and my expected return or arrival time.

- I will treat the outdoors with respect. I will not litter or damage trees or other vegetation.

- I will respect other people's property and rights and lend a hand when I see someone in need.

- I will not snowmobile where it is prohibited
Site powered by Weebly. Managed by
Dotster